We accept:
Visa
Mastercard
Amex
eTransfer

*Income Tax Reciepts Issued*
Please NOTE:
New Website is Under Construction
Your Safety is our Top Priority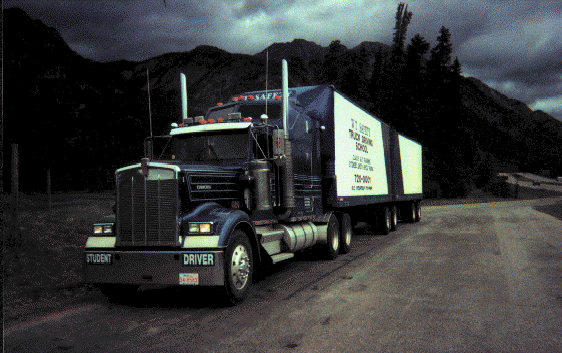 WT SAFETY TRUCK DRIVING SCHOOL
A Division of 639260 Alberta Ltd.
Calgary, Alberta
PLEASE NOTE 24 McKenna Mews is a mailing address. Please call Brenda for a training location.

Tel: 403-720-0001
Fax: 403-720-0002
Text: 403-809-6401

Email: brenda@wtsafety.com
or kevin@wtsafety.com

Welcome to WT Safety Truck Driving School, Professional Training in Calgary, Alberta for Students who wish to obtain their:
- Class 1 Truck and Trailer Driver Training
- Class 2 Bus Driver Training : School Bus, City Transit Buses, Tour Buses, Hotel Shuttle Buses and Fire Departments
- Class 3 Tandem Drivers License
Get prepared for employment opportunities and a career in the Transportation Industry. We train on day cabs, gravel truck (& pup) as well as highway tractors, enabling you to drive various transmissions, motors & trailer configurations.

This includes everything from:
- Long-haul trips - Pin-to-Pin drops - In-town deliveries - Construction work - Fire Department - Ambulance - Bus Driver and more.
We Are Safety Training Specialists for the Public and for Corporations:
- Instruction for Licensing
- Evaluations for pre-hire, post incidents, company ride along
- Company Insurance Requirements.
We welcome inquiries by phone, email or text.
Let us help you Achieve Your Goals.
Up-to-date Road Information, including traffic delays, is a click or call away. Call 5-1-1 toll-free, visit zsawfgrt or follow on Twitter@511Alberta to get on the road to safe travel.